Furry Angels Forever





This page is dedicated to all the beloved and wonderful pets who have passed, and some who have not! Perhaps it should be called, "Furry Angels FURever"! Many people ask me to make urns, shrines, memorials, garden stones, and other tributes to their departed ones. Others commission food bowls and other items to celebrate a new little life. Whichever, I take seriously the challenge to artistically capture the beloved pet.

Some people come to me knowing exactly what they want. Others have no idea and ask for suggestions or say I should do what I think will work best. Either way is fine with me! Here are just some of the various pet memorials I've made.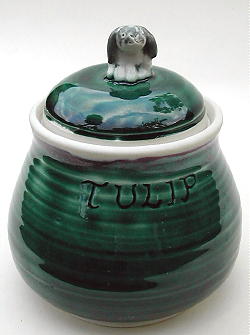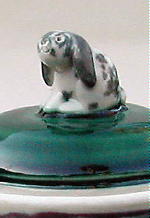 Many people miss the wonderful Prince Tulip. I know that Wally looked up to him as a larger version of himself, being another gray and white lop. Here is noble Tulip atop a green lidded container (with splash of lavendar) that Patricia ordered.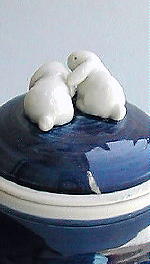 Nancy wanted a cobalt blue urn for Binks and Bumbles. She asked for a porcelain sculpture that would show their closeness. She wanted them in white so the form would really show up. This sculpture was hard to do, with glazing even more difficult, since one ear overlaps the other bunny.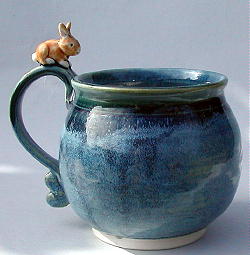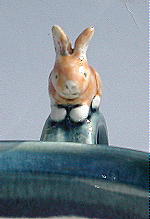 Tawney was a sweet and tiny rabbit who was friends with Wally. John rescued Tawney and adored her. When she passed, I designed a special Tawney cup in her honor.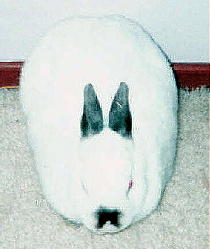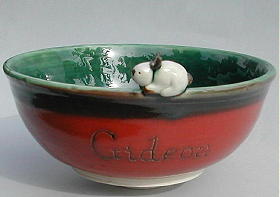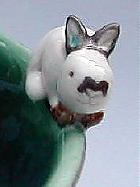 This bowl commemorates Bruce's bunny Gideon. Several people in the Petbunny community contributed funds so this memorial bowl could be made for this little cutie.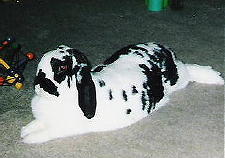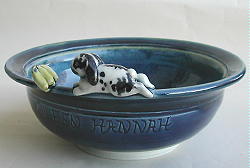 Valerie wanted to commemorate her bunny with a dark blue bowl with Queen Hannah on the rim. She also wanted a banana-- Hannah's favorite food-- nearby. I gave her a whole bunch of bananas, as befits a queen!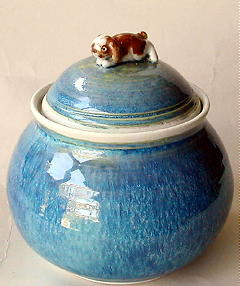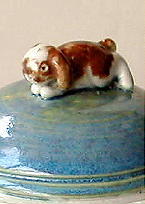 This is the Truffle urn, commissioned by Nicole. She requested a medium to light-colored blue lidded container with her beloved Truffle on top. I couldn't capture his colors exactly, but Nicole said I accurately conveyed Truffle's character and "being". His name is inscribed on the bottom, as she wished.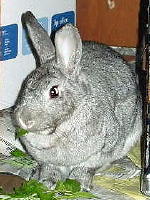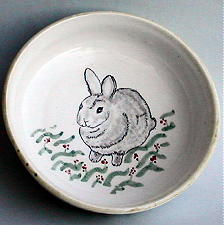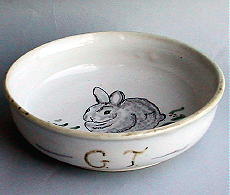 Mary wanted to commemorate lovely G.T. She wanted a bowl with G.T.'s likeness in the interior and her name outside. This is what I came up with for the G.T. bowl.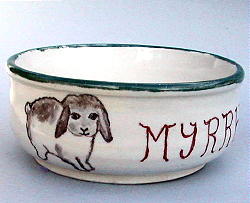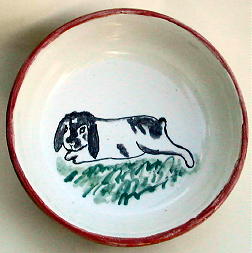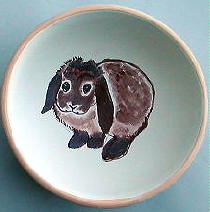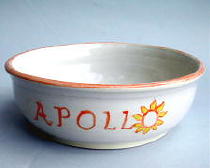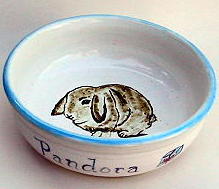 Kathy has been a regular patron of Harewear for years. She rescues needy bunnies, and when she gets a new one, she orders a food bowl in his/her honor. You saw one bowl I made for her on the previous page. Here are more for Myrrh, Big Al, Apollo and Pandora. I put a "Pandora's box" on the outside of Pandora's bowl ;-)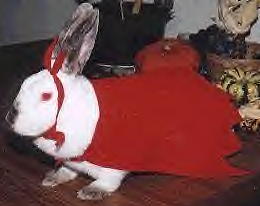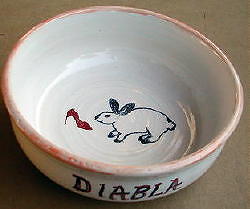 Cindy wanted a memorial bowl for her Diabla. Diabla had fiery red eyes and a fondness (or fetish?) for chewing red high heels. This was her tribute. Cindy's favorite holiday is Halloween, for which Diabla was attired in this photo.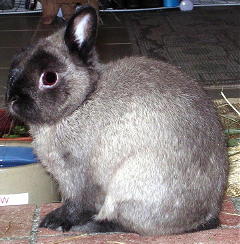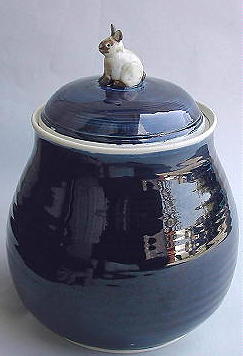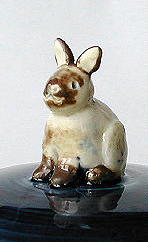 The bunny atop this full-size cookie jar is cute little Wriggley. Jane wanted a cookie jar to use with his likeness. I tried to capture his shading and short dwarf bunny ears.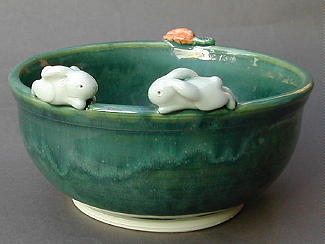 Gerda requested this special bunny bowl. She specified the bowl's dimensions, the bunnies' position, and the glaze. She wanted it to match a cup I had made for her. It did! ;-)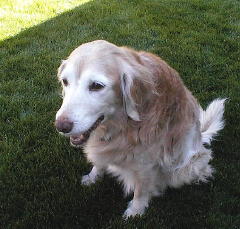 Another "Hareware" dog! When Sarah's beloved Maile passed on, she wanted an urn representing the outdoors, in bands of a yellow sun, blue sky, green grass. Maile was named for Hawaiian maile leaves. I researched what they looked like and decorated his urn with them.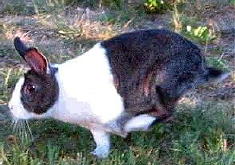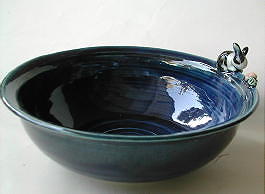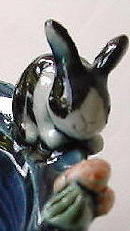 This is Herman, a handsome Dutch bunny. Pat wanted a fairly large bowl with Herman and some carrots on the rim. Carrots were his favorite.
---
Want to go on and see some pottery I've exhibited?
Just for Show!
Or back to Wally's Pages?
Or back to page one? The Simon HareWARE Gallery
---
I do sell some of my artwork on a limited basis. For information, email me!


---
Also visit HareWEAR Tshirts! "Buy a shirt, help a bunny!" Click on the HareWear banner below!